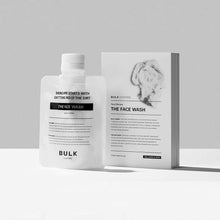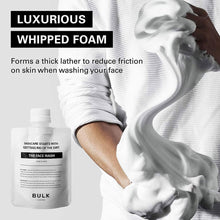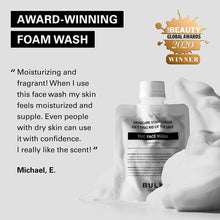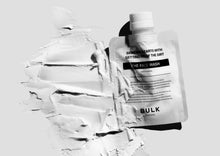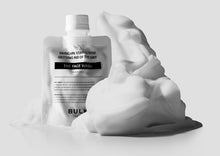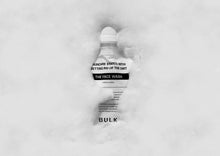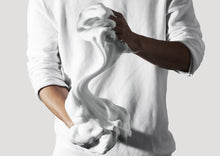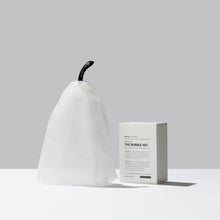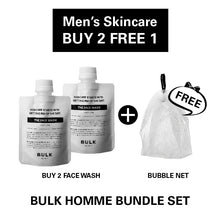 SKIN'S MOISTURE BALANCE, LIFT ALL EXCESS DIRT 
THE FACE WASH employs a rich, thick lather that lessens the friction on your skin when washing your face. This highly functional face wash forms a luxurious whipped foam that cleanses the skin without drying it out, leaving it feeling refreshed and smooth. Elevate your skincare routine with BULK HOMME's longest-selling product.
Employing oleic acid absorbing clay minerals and seven key ingredients as a base, THE FACE WASH thoroughly removes all excess dirt from your skin. The raw soap formulation maintains your skin's hydration levels and elasticity. This keeps your skin's barrier functions running smoothly while maintaining your skin's hydration levels and elasticity. Additionally, the rich, elastic lather makes face-washing even more relaxing and enjoyable.
1. Selective Absorption
Thanks to clay minerals and bentonite clay sourced from Kanumashi City in Tochigi Prefecture, Japan, only excess dirt and sebum are removed from the skin. Essential hydrators on the skin are left behind.
2. Raw Soap
We utilize a long-used raw soap material that creates an extremely elastic, thick foam. The foam reduces the amount of friction imparted on the face when washing and is thus much kinder on the skin than other traditional face washes.
3. Cleanses Without Drying Out Skin
Extracts from the South African resurrection plant and hydrolyzed golden silk cocoon create a veil of moisture on the skin, preventing excess drying or that overly "squeaky clean" feeling.
HOW TO USE?
Squeeze a cherry-sized amount into your hand or THE BUBBLE NET, then rub to create a rich lather. Apply foam to your wet face, gently massage, and then rinse thoroughly with water.
Apply product to THE BUBBLE NET (sold separately), massage until voluminous and opaque lather forms, then remove the lather from the net.

Wet face, then apply lather and gently massage over skin with circular motions.

Rinse off thoroughly with water.
护肤,从清洁开始
面部皮肤全天暴露在干燥的空气和污染的环境当中,THE FACE WASH洗面奶中含有丰富的保湿成分,配合浓密富有弹力的泡沫,洁面时,面部仿佛被柔软的云朵包裹一般,去除污垢同时保留皮肤所需养分,给每日的护肤带来前所未有的全新体验。
采用吸收油酸的矿物粘土和七种关键成分作为基础,可以彻底清除皮肤上所有多余的污垢。保持皮肤的水分和弹性。这样可以使您的皮肤屏障功能平稳运行,同时保持皮肤的水分含量和弹性。
1. 选择性吸收
矿物粘土仅能去除皮肤上多余的污垢和皮脂。皮肤上必不可少的保湿成分会被留下。
2. 生皂
使用的原始肥皂材料,可产生极富弹性的厚,泡沫如果不丰,洗脸时会施加脸上的摩擦力。
3. 不会使皮肤干燥
南非复活植物的提取物和水解的金丝茧在皮肤上形成了一层水润的面纱,可防止皮肤过度干燥。
如何使用?
1. 取樱桃大小的洗面奶置于掌心搓揉,同时慢慢加进温水、空气使其充分产生泡沫。
2. 将脸用温水浸湿后把泡沫覆上,轻柔地将整个脸洗净。若对毛孔及油光较在意,可特别注意鼻子,额头等T字部位,轻柔地搓洗。
3. 之后用凉水或温水将泡沫冲掉。