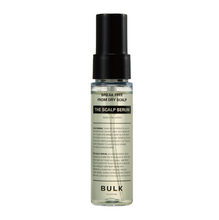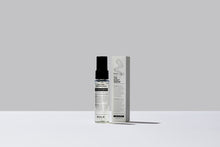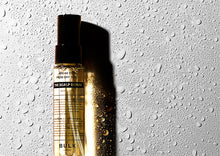 HYDRATE & PROTECT YOUR VULNERABLE SCALP
THE SCALP SERUM lets you aim for a healthy scalp as part of your skincare routine: the skin on your scalp is just as important and vulnerable as the skin on your face. With a formulation that is over 90% collagen, THE SCALP TREATMENT penetrates the scalp to moisturize and encourage hair growth.
A beauty serum for men's' scalps that thoroughly penetrates the outer layer of the scalp, allowing hydrating key ingredients to moisturize the skin. THE SCALP SERUM is formulated to effectively moisturize delicate scalps to avoid scalp issues. The serum adopts a collagen extract at its base which improves moisturizing power without leaving a greasy residue.

1. Non-Water Formulation
Our formulation completely replaces water in favor of collagen. This increases the moisturizing effects of the serum without leaving any sticky residue on the scalp.                    

2. Includes Booster Serum
PEG/PPG/Polybutylene Glycol-8/5/3 Glycerin: these ingredients all act as a stimulant, allowing our key ingredients to penetrate the horny layers of the scalp.

3. Includes Natural Herbs/Ingredients
Ingredients such as Swerita Japonica extract are often used as a hair growth stimulant due to their ability to increase blood circulation.

4. Refreshing Feeling Eucalyptus oil
Well known for its strong anti-bacterial, sterilization, deodorant and blood circulation promoting effects. It also creates a clean, refreshing feeling on the scalp.



HOW TO USE?
For use after bathing. Dry your hair with a towel, pump 8 to 10 times directly and evenly onto your scalp, and then massage. Use before blow-drying for best results.


After bathing, dry hair using a towel and apply it directly to the scalp.

Using fingertips, distribute product evenly across scalp. Using gentle, circular motions, massage the scalp until the product is fully absorbed.

Use before blow-drying hair to prevent dry scalp.
拯救干燥头皮
BULK HOMME追求的不仅是健康的发质,健康的头皮环境也同样重要。
头皮环境容易变得敏感,为了保持头皮环境的健康,头皮精华特别添加了美发成分,充分滋润头皮,使头皮免于干燥的困扰。颠覆了以往对于头发和头皮环境护理的认知。
男士头皮的美容精华液,可完全渗透到头皮的外层,保湿成分,从而滋润头皮。头皮精华液的配方可有效滋润细腻的头皮,避免头皮问题。采用胶原蛋白提取物,可提高保湿力而不会留下油腻的残留物。

1.非水配方
我们的配方完全替代水,有利于胶原蛋白。这样可以增加保湿效果,而不会在头皮上留下任何粘性残留物。

2.加强精华液
聚丁二醇8/5/3甘油:这些成分均起了充分滋润的作用,能够渗透到头皮的角质层。

3.天然草药成分
天然提取物的成分由于具有增强血液循环的能力。

4.清爽的感觉
具有强大的抗菌,杀菌,除臭。促进血液循环作用而闻名。体验头皮干净清新的感觉
如何使用
1. 头部清洁、头部护养之后,用毛巾擦干头部的水分,将精华喷在干净的头皮上。
2. 喷遍整个头部之后,用指尖按摩头部使其充分吸收。在吹风机之前使用,可以预防头部干燥。(推荐使用量:每次喷8至10下)