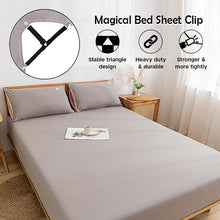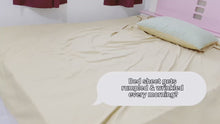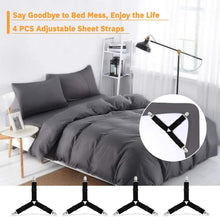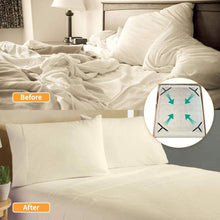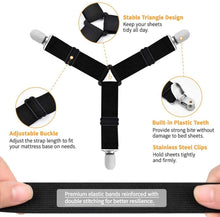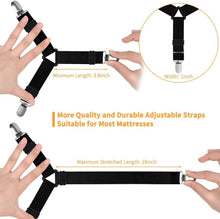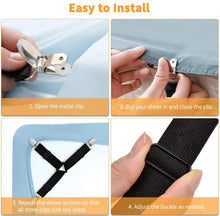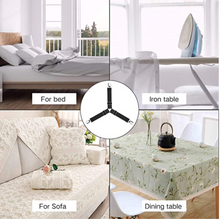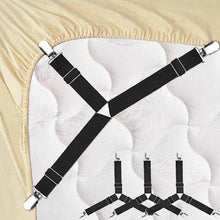 Enhance your sleeping routine, no more loose sheets! 

Magical Bed Sheet Clips are made of sturdy chrome metal clips and heavy duty elastic bungee cords that will grip your bed sheets firmly. 
✅ Stable sheet position, provide better sleeping experience
✅ Multipurpose, work with all types of bedding sizes.
✅ High quality with unique design
✅ Non-slip, contributes constant tidiness
✅ Protects the bed sheet from damage
✅ Save time
✅ 3 easy steps, simple installation.

【Why Magical Bed Sheet Clips】
Perfect for fitting bed sheets. Your bed sheet will stay in place for a long time and keep your bed always looking great. 
✴️ Nickel Plate Metal Clips: 2x stronger stretching stainless steel metal clips
✴️ Built-in plastic clenching system: Protects bed sheet from damage
✴️ Adjustable nylon elasticity straps: Provides stable & stronger grip for heavy duty purpose
✴️ Triangle designs, which avoid the elastic sliding all the time.
【Multiple Uses】
Also can be used as table covers, cars seat cover, boats seat cover, motorcycle seat cover, scooters seat cover, couch seat cover, chairs seat cover.
【How to install】

*3 Simple Steps: 
Step 1: Open metal clips
Step 2: Attach it to the edge of bed sheet.
Step 3: Press the clips to secure the bed sheet.
【Package includes】
 1 set (4 pieces) of black colour bed sheet clips