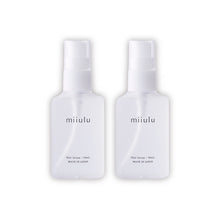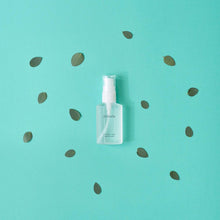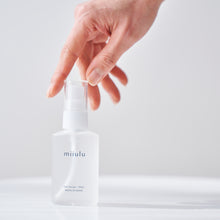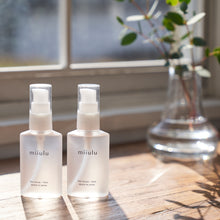 TROUBLED BY DRY, UNTIDY & FRIZZING HAIR?
There is nothing worse than feeling like you can't manage your own hair. With our all-in-one aging care hair essence miiulu hair serum, you'll feel the differences in how soft and shiny it looks.

Developed by an expert female beautician from Japan, helps you to achieve smooth, soft and supple hair that is easy to manage. Make your hair a priority today.
Product Characteristics
✨An all-in-one hair essence that suppresses dryness and leads to supple and glossy hair in busy days.
✨27 kinds of beauty ingredients to provide moisture and shine for hair.
✨Luxurious beauty ingredient proteoglycan & 3 types of hyaluronic acid which has high water retention that moisturizes hair and scalp.
✨Hypoallergenic formula with 15 types of plant-derived ingredients.
✨Moisturising barrier with 3 types of collagen.
✨Non-sticky and long lasting hair repair.
✨You can choose from two types of scents with the same effect.

Free from 9 types additives
❌ Paraben
❌ Mineral Oil
❌ Sulfate
❌ UV absorber
❌ Scattering Agent
❌ Laureth Sulfate
❌ Lauryl Sulfate
❌ Synthetic Colorant
❌ Ethanol

How to Use・Precaution
1. After towel-drying, take an appropriate amount on the palm of your hand.
2. spread it on both hands, and apply it to the entire hair, centering on the tips of the hair.
3.Then, dry it with a hairdryer. It can also be used on dry hair.
FAQ
1. How should I store it?
Please keep it in a cool place indoors, avoiding places where infants can reach, where it is exposed to direct sunlight, or where it gets extremely hot or cold.

2.Is there an expiration date?
If it is unopened, please be careful about the storage environment and we recommend that you use it within one year of purchase. However, please note that the quality may deteriorate if the storage condition is poor even if it is unopened. Do not use it if you feel that the contents or odor strange. In addition, since it uses naturally derived ingredients, after opening please use it as soon as possible.

3. How long it can last?
We estimate about one month. However, there are individual differences because the amount used varies depending on the amount, length, and quality of hair.

4. What is the effect?
A lot of moisturizing ingredients permeate the hair that has been damaged by daily hair dryers and dryness, suppressing dryness and leading to smooth and glossy hair.

5. When is it effective to use?
It is effective to use it on wet hair after towel drying, and then dry it thoroughly with a dryer.If excess dirt remains on the hair, it will be difficult for the moisturizing ingredients to penetrate.

Country of Origin : Japan
Size/ Volume : Hair serum 50ml
Cyclopentasiloxane, Dimethiconol, Caprylic/Capric Triglyceride, Argania Spinosa Kernel Oil, PEG-9 Polydimethylsiloxyethyl Dimethicone, Water, Macademia Seed Oil, Meadowfoam Oil, Rice Germ Oil, Hazelnut Oil, Shea Butter Oil, Avocado Oil, BG, Jojoba Seed Oil, Camellia Seed Oil, Grape Seed Oil, Almond Oil, Evening Primrose Oil, Canina Rose Fruit Oil, Sodium Dilauramidoglutamide Lysine, Hydrolyzed Collagen, Sodium Acetyl Hyaluronate, Sodium Hyaluronate, Hydrolyzed Hyaluronic Acid, Polyquaternium-51, Pomegranate Fruit Extract, Water-soluble Proteoglycan, Rosa Roxburghii Fruit Extract, Pomegranate Peel Extract, Soybean Seed Extract, Water-soluble Collagen, Succinoyl Atelocollagen, Fragrance