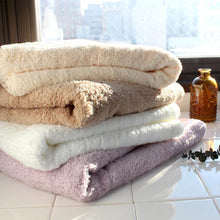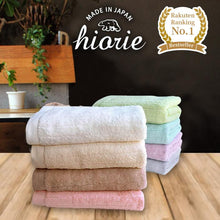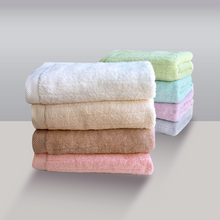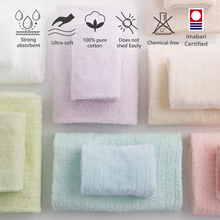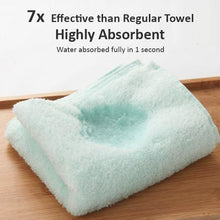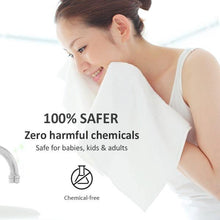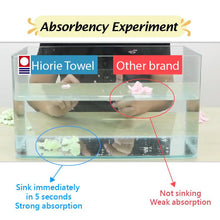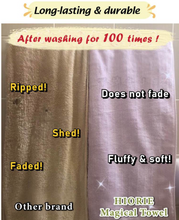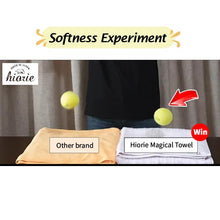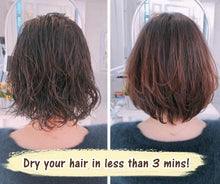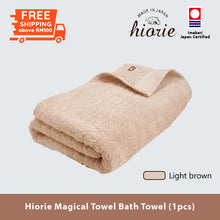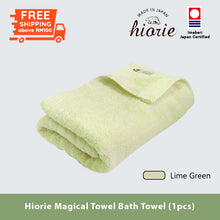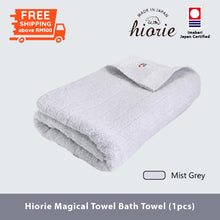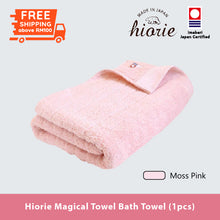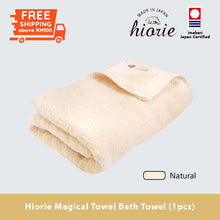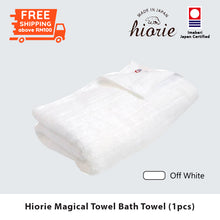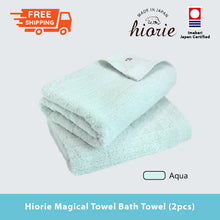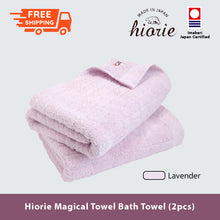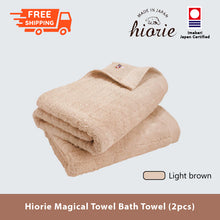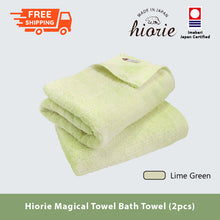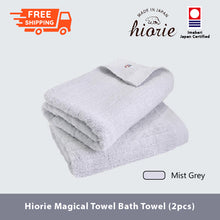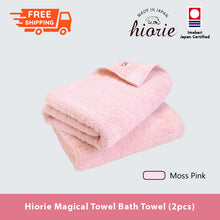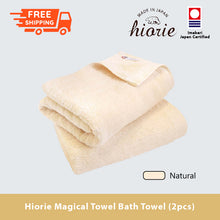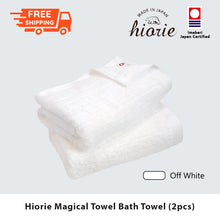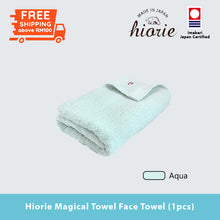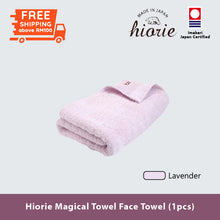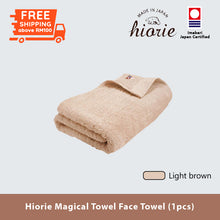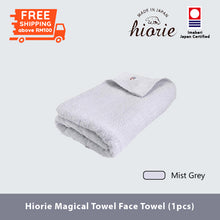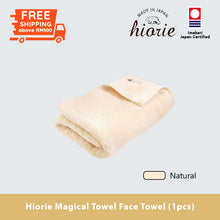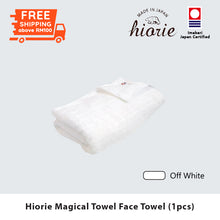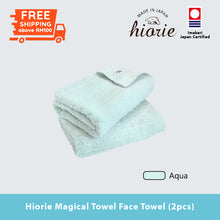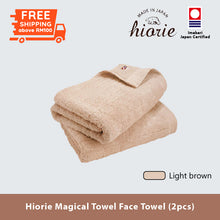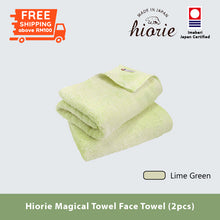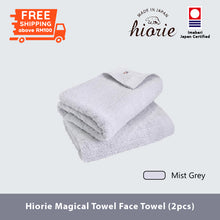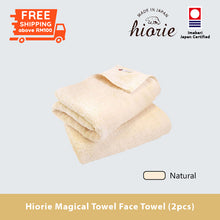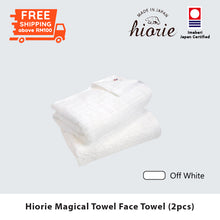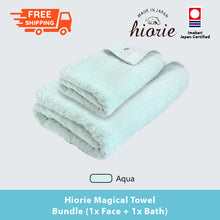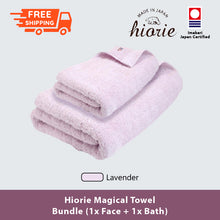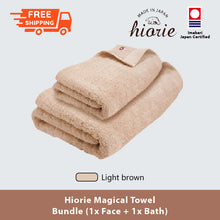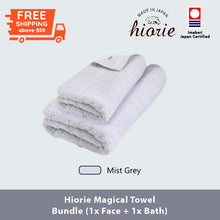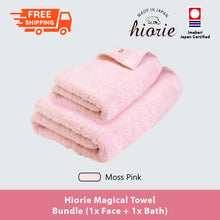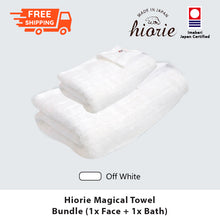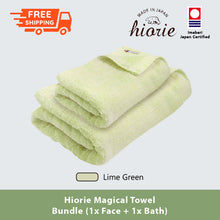 MAKE EVERY DAY A SPA DAY with Hiorie's softest bath towel.
You'll love the soft, luxurious feel and the quality of our premium Hiorie Magical Super Absorbent Towels.
Hiorie Magical Super Absorbent Fluffy Towel is more absorbent than normal towels and has a soft touch, giving you a delicate and fluffy feeling. High-quality and soft texture, the color is saturated and does not fade. More durable, the color is maintained as a new towel after repeated washing, and the texture would not be rough. No need to rub, you can gently press the hair and body after a shower to get it dry.
WHAT MAKES IT SO MAGICAL? 
Imabari is certified by Japan Towel Association (symbol of high quality)
It has 7x stronger absorption compared to normal towel material
3x softer than a normal bath towel
Remains soft & odorless even after 100 washes
High quality & durable (can last for >3 years)
100% natural cotton
Suitable for people with delicate skin, safe to be used by babies
HOW IS IT BETTER THAN A NORMAL HOTEL TOWEL?
Does not become smelly after use
Does not shed fur after use
Does not involve the use of chemicals such as bleaching agent
Colour does not fade after long-term use
Anda pasti menyukai rasa lembut, mewah dan kualiti Hiorie tuala kami!
Lebih menyerap daripada tuala biasa dan mempunyai sentuhan lembut, memberikan anda rasa halus dan gebu. Tekstur berkualiti tinggi dan lembut, warnanya tepu dan tidak luntur. Lebih tahan lama, warna dikekalkan sepertii tuala baru selepas dibasuh berulang kali, dan tidak akan menjadi kasar. Anda boleh tekan perlahan-lahan rambut dan badan selepas mandi untuk mengeringkannya.
APA YANG MEMBUATNYA SANGAT AJAIB?
Imabari disahkan oleh Persatuan Tuala Jepun (simbol kualiti tinggi)

Ia mempunyai daya serapan 7x ganda lebih kuat berbanding tuala biasa

3x lebih lembut daripada tuala biasa

Kekal lembut & tidak berbau

Berkualiti tinggi & tahan lasak (boleh bertahan >3 tahun)

100% kapas asli

Sesuai untuk mereka yang berkulit halus, selamat digunakan oleh bayi
BAGAIMANA IANYA LEBIH BAIK DARIPADA TUALA HOTEL BIASA?
Tidak berbau selepas digunakan

Tidak gugur bulu selepas digunakan

Tidak melibatkan penggunaan bahan kimia seperti agen pelunter

Warna tidak luntur selepas penggunaan jangka panjang
PRODUCT DIMENSION:
Face Towel: 34 x 80 x 0.7cm
Bath Towel: 60 x 120 x 0.7cm
Care/Laundry Instructions
Avoid putting softener to prevent shedding.
Do not bleach.
Spread out the towel before hanging it to dry. Do not use the dryer too long. It could damage the towel and make it shrink.
Please dry it straight after washing. Towels would change colors, moldy and smelly if you leave them.
If the thread is loose, please cut it off. If you leave it, it can get worse and damage the towel.
FAQs
Is It Machine Washable?
Yes, it is safe and durable for machine washable.
Are These Towels Made From Pure Cotton?
Yes, it is 100% natural cotton with zero harmful chemicals, safe for babies, kids & adults.

What All Comes With This Bundle Set Of Towels?
The bundle set includes 1pc Bath Towel + 1pc Face Towel.

Can I Wash The Towel With Softener?
Please do not bleach or wash Hiorie Magical towels with softener as it will affect the water absorption.