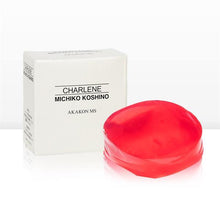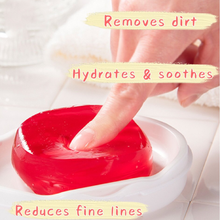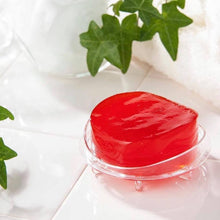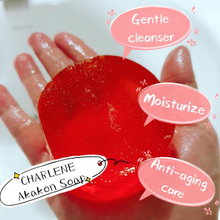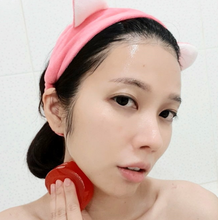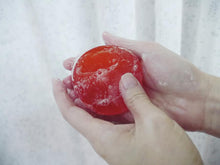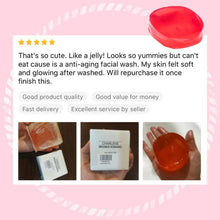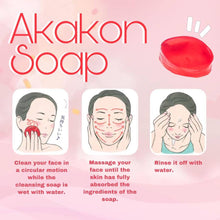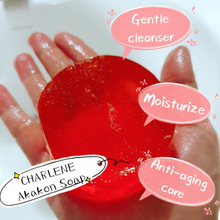 Face feeling "tight" after face wash? 🙅🏻‍♀️ That means you have been over-cleansing your face! 
Akakon Soap is a  jelly-like cleansing soap made with "Red konjac" which is a natural traditional food in Japan. It cleanses and moisturizes at the same time,  helps to brighten your skin, reduces blackheads, and gives you firm moist skin. 
Why you need Akakon Soap in your daily skincare routine?
Removes dirt & impurities from the skin.

Cleanses & moisturizes at the same time.

Does not strip the skin off essential sebum. (Skin does not feel "tight" after face wash)

Contains anti-aging ingredients & beauty serum.

Reduces existing breakout and prevents new ones from popping out. 

Suitable for all skin types.
Akakon Soap Benefits  : 
Gentle cleanser

Skin brightening

Reduces dark spot

Lightens pigmentation

Brightens dull skin

For glowing and translucent complexion
Direction of use:
Wet Akakon Soap with some water.

Massage your face with the soap in a circular motion for a few minutes.

Rinse it off with water.




How to store:
After use, store Akakon soap in a dry container. DO NOT soak it in water as it may dissolve.
 Brand: CHARLENE
Country of origin: Japan
For effective use, try out Charlene Real All in One Gel Cream moisturizer together with Akakon Soap to get better results. Perfect for those with dull skin & wrinkles issues.
赤蒟蒻洁面皂
洗完脸后感觉紧绷? 🙅🏻‍♀️这意味着您已经过度清洁自己的皮肤了!
Akakon Soap是一种果冻状的清洁皂,由日本天然的传统食品" 红蒟蒻"制成。它可以同时清洁和保湿,有助于提亮皮肤,减少黑头,使您的皮肤紧致湿润。
为什么在日常护肤中需要赤蒟蒻洁面皂❓
✨去除皮肤上的污垢和杂质。
✨同时清洁和保湿。
✨不会过分清除皮脂。 (洗脸后皮肤不会感到"紧绷")
✨包含抗衰老成分和美容液。
✨减少以及防止痘痘。
✨适合各种皮肤。
赤蒟蒻洁面皂的好处
💁‍♀️:
❣️温和的清洁皮肤
❣️重点美白
❣️淡化黑斑
❣️淡化沉淀的黑色素
❣️提亮暗哑肌肤
❣️令肌肤焕发亮白
💭使用方法💭:
用水把洁面皂弄湿后。

使用洁面皂以打圈的方式按摩脸部数分钟。

最后用水清洗干净即可。
💭怎么存放💭:
使用后,放入干净的肥皂容器内,防止其浸泡到水里。
品牌:CHARLENE
原产国:日本