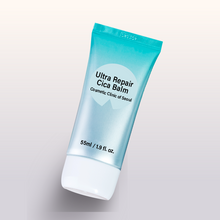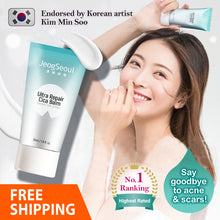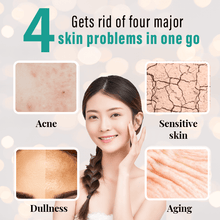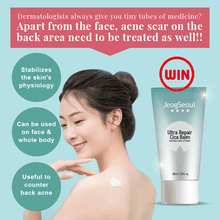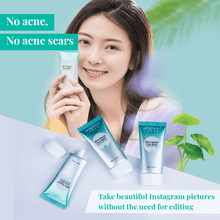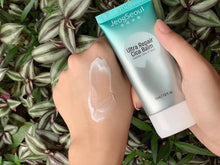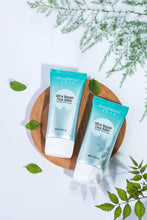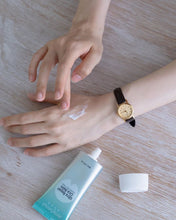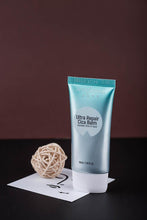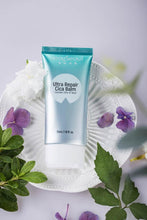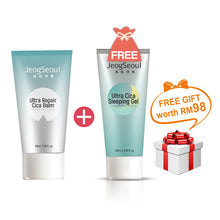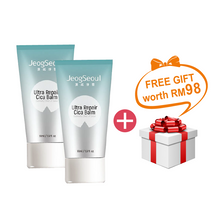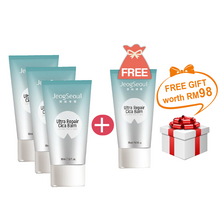 A savior of acne-prone sensitive skin
Discover our #1 Ultra-Repair Cica Balm, uniquely formulated for all skin types. This ultra-hydrating cica balm repair cream helps prevent acne, improve acne scars and enhance skin regeneration. Made for all skin types, even sensitive skin.
JeogSeoul Cica Balm Ultra Repair Cream was originally sold exclusively by a Korean beauty clinic in Seoul. Ranked No.1 on Japan's skincare awards and achieves 97.3% in user satisfaction level! Read our customer's Cica Balm reviews here.
What does Cica Balm do?
Skin's PH level: Balance your skin's oil and water levels
Acne Care:Reduce acne scars/marks appearance
Anti-aging: Protects skin from UV rays which cause aging
Super effective anti-acne ingredients
Ultra Repair Cica Balm can also be used as a moisturizing cream. Formulated with a combination of deer ingredients from Korea and four traditional oriental herbal extracts, the cica component has the ability to regenerate and repair the skin, making it highly effective against recurring acne and other skin problems.
With continuous use, acne scars will gradually disappear, the roughness of the skin will disappear, and the skin will become healthy.
Deer + traditional Japanese and Chinese plant essence
Centella asiatica plant extract
Vitamin E and Vitamin B5
Olive oil
Perfect skin care for all skin types
Free from all 7 types of additives
It does not contain any additives that can harm your skin and can be used even on sensitive skin.
JeogSeoul, a doctor's cosmetic prescribed by a Korean clinic, is a skin care brand developed using ingredients that are uniquely prescribed by a Korean skin clinic. JeogSeoul is a brand developed with the goal of addressing skin irritation, the most common skin problem, and making it easy for anyone to take care of their skin without going to a clinic.
The content of Ultra Repair Cica Cover is sustainable for about 1 month even if you use it twice in the morning and at night.
Repairs and protects your skin effectively
Suitable for all skin types including normal, sensitive, oily and combination skin. Cica balm is the perfect skin care product that can be used as an aftercare after sunburn, even in the summer when the skin is exposed to UV rays and in the dry winter.
Brand: JeogSeoul
Product Content: Ultra Repair Cica Balm 55ml x1
Expired date: March 2025
Other Jeogseoul's products you may try:
ALL INGREDIENTS
Water, propanediol, caprylic/capric triglyceride, panthenol, cetearyl olive oil, 1,2-hexanediol, sorbitan olive oil fat, (hydroxyethyl acrylate/sodium acryloyldimethyltaurate) Copolymer, sorbitan isostearate, polysorbate 60, carbomer, ethylhexylglycerin, tromethamine, BG, madecassoside, panax ginseng root extract, lotus flower extract, chamomile flower extract, murokuji fruit extract, phenoxyethanol, button extract, pentylene glycol, sycamore flower extract, camellia Flower extract, Tocopherol, Caprylyl glycol, Rokujou extract, Reishi extract, Plum flower extract, Chamomile flower oil
How to Use

After face wash, wipe it dry.
After toner, apply JeogSeoul Ultra Repair Cica Balm evenly over the entire face. More balm may be applied to areas of concern such as on acne & scars.
After bathing, gently wipe your body with a towel and apply the balm to your entire body. It can also be used on skin that has yet to dry.